Atish Dipankar (982 – 1054) was a Bengali Buddhist monk, scholar and teacher. He had a distinguished stint at Nalanda and Vikramshila universities in India, and travelled extensively, both for studying and to teach.
Drop-in Meditation
Guided meditation sessions are held online and in hybrid (in-person and online) mode once a week. Anyone can attend with prior intimation. The sessions are offered for free.
Study Programme
This is a study course on Buddhist psychology and philosophy with teaching and commentary. Members are required to take part in presentations and discussions on study topics.
Meditation Retreat
Retreats of varying duration – from a couple of days to 10 days – are held few times a year. Retreats are essential in deepening our personal experience of meditation.
Puja and Prayer
The Dhyan Kendra regularly organises group pujas and prayers. They are open to all and offered for free. These are held both online and in our meditation hall in Salt Lake, Kolkata.
Atish Dipankar Dhyan Kendra is a public charitable trust. Your donation will help us in running our study and meditation programmes, developing course material, organising meditation retreats, maintaining the meditation centre, translating Buddhist texts and supporting practitioners on this path.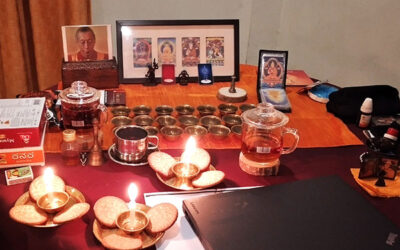 On September 4, 2023, a small group of practitioners went on a week-long guided…
read more
It's my long-term interest in Buddhist philosophy that brought me to this group and it's been a life-changing experience. My systematic engagement in the contemplation and meditation sessions, along with the retreats, has changed my outlook on life, transforming me from a staunch atheist to a person invested in spiritual progress. It has also redefined the meaning of the work I do.

Paramita Banerjee

Social Development Professional

Atish Dipankar Dhyan Kendra's study programme opened doors to authentic teachings on Buddhist psychology for me. Not only is it intellectually stimulating, the practice of mindfulness and meditation, which forms an integral part of this engagement, helps me evolve as a person too. I am truly grateful for this space.

Saoni Banerjee

Psychologist & Art Therapist